27 Apr 1966, Thanh Quit, South Vietnam -- A Vietnamese soldier threatens a
Police in Da Nang cover the eyes of a woman who was an alleged member of a Viet Cong terrorist unit on Oct. 26, 1972. The woman was captured carrying 15 hand
John Kerry, 27-year-old former navy lieutenant who heads the Vietnam Veterans Against the War (VVAW), receives support from a gallery of peace demonstrators and tourists as he testifies before the Senate Foreign Relations Committee in Washington, D.C., April 22, 1971. (AP Photo/Henry Griffin)
A South Vietnamese Marine carries the dead body of a comrade killed on Route 1, about seven miles south of Quang Tri Sunday, April 30, 1972. Marines were fighting to reopen the road in order to break the North Vietnamese siege of the provincial capital. (AP Photo/Koichiro Morita)
Lightly-wounded civilians and troops attempt to push their way aboard a South Vietnamese evacuation helicopter hovering over a stretch of Highway 13 near An Loc in Vietnam on June 25, 1972. (AP Photo)
South Vietnamese soldier kicks a suspected Vietcong member. October 1965
Cargo net lifts refugees onto the S.S. Pioneer Contender for evacuation from Da Nang, 1975. It took eight hours for the freighter to load 6000 people
2/5/1969-Da Nang, South Vietnam- Children with them, women suspected of being Viet Cong file past U.S. Marines. The women were among more than 100 suspects found in a tunnel during "Operation Bold Mariner," a sweep of the Batagnan Peninsula about 65 miles
April 17, 1968: A 9th Infantry Division airboat glides through the water near Nha Be, an area said to be used by the Viet Cong in organizing attacks on Saigon. The airboats, which could travel at speeds up to 40 knots, were similar to those boats most commonly found in Florida's Everglades. ~ Vietnam War
"Vietcong soldiers, trapped and shot down in the Delta, lie dead on a nearby shore beside their flag while captured comrades huddle in defeat. Americans in the picture were advisers to the Vietnamese." 1963.
Eyes and mouth taped for security, a Vietcong is held prisoner by U.S. Marines.
"Within the village children shrink from a scout hunting the V.C. who strike from tunnels under huts." 1965. Photo by Paul Schutzer.
Discovery of a Vietcong tunnel.



... photo as President Nixon meets with troops of the 1st Infantry Division at Di An, 12 miles northeast of Saigon, on his eighth visit to South Vietnam ...
South Vietnamese soldiers on a US Navy troop carrier in 1962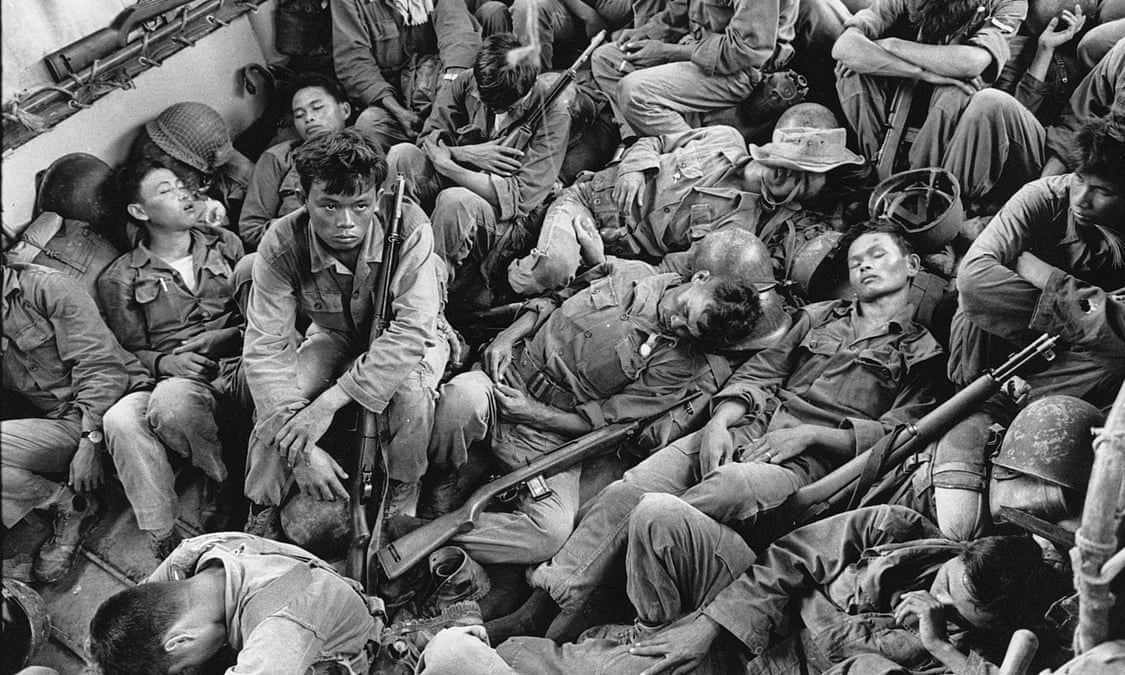 A US paratrooper guides a medevac helicopter down to pick up soldiers injured during a five-day patrol in Vietnam in April 1968.
The Vietnam War was wisely televised in the US and returning troops were targeted
South Vietnamese parents, with their five children, ride along Highway 13, fleeing southwards from An Loc toward Saigon on June 19, 1972.
South Vietnam, May, 1968: A Vietnamese family walks toward central Saigon to escape fighting near Tan Son Nhut air base, on the city's outskirts.
September 12, 1966: bewilderment and fear shows in the eyes of the youngest in a family of Vietnamese awaiting interrogation in a Viet Cong village 45 miles ...
Fear: In this 15 May 1965 photo, a Vietnamese mother and her son hide in bushes near Le My to escape fighting as U.S. Marines go past after clearing the ...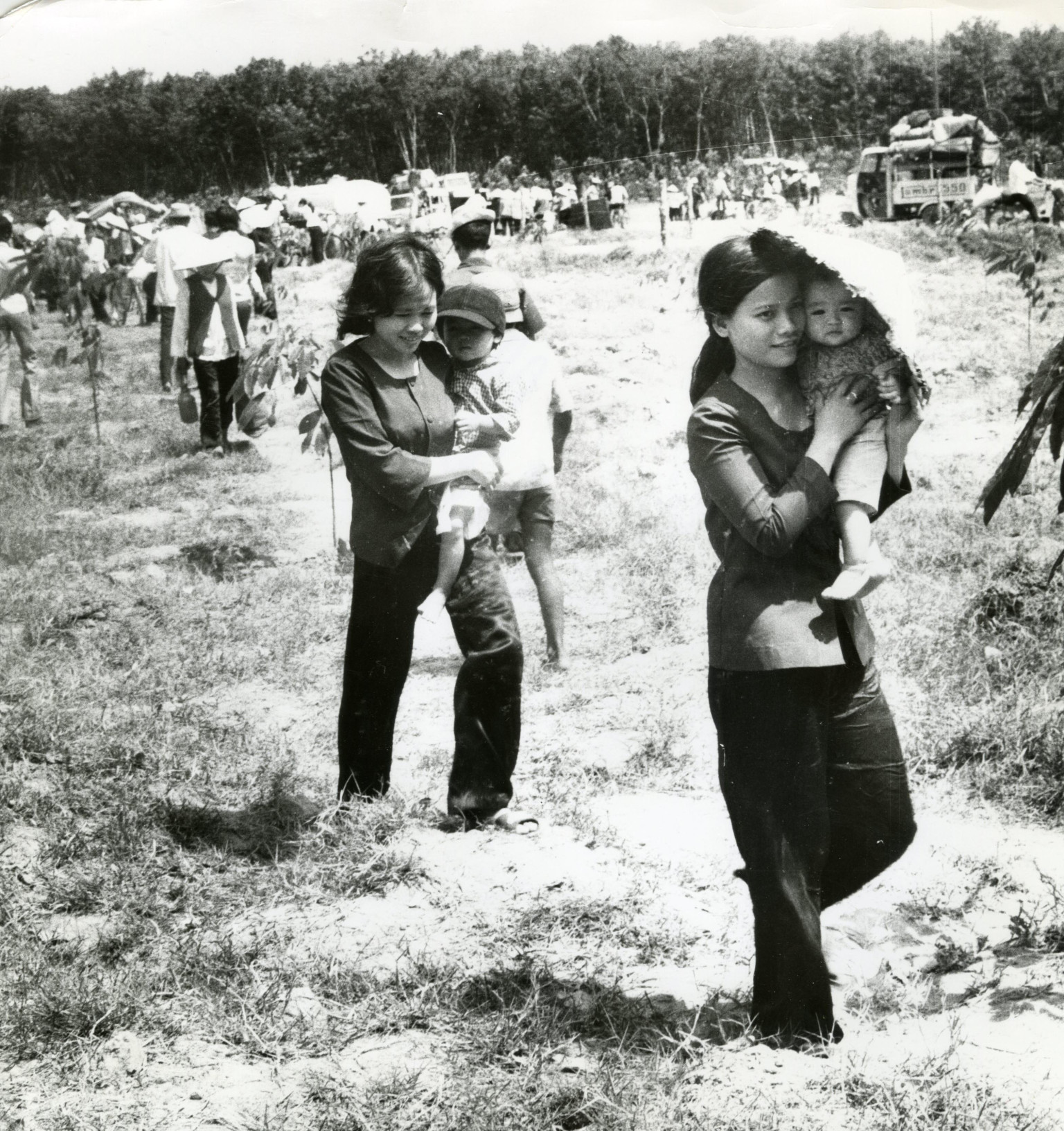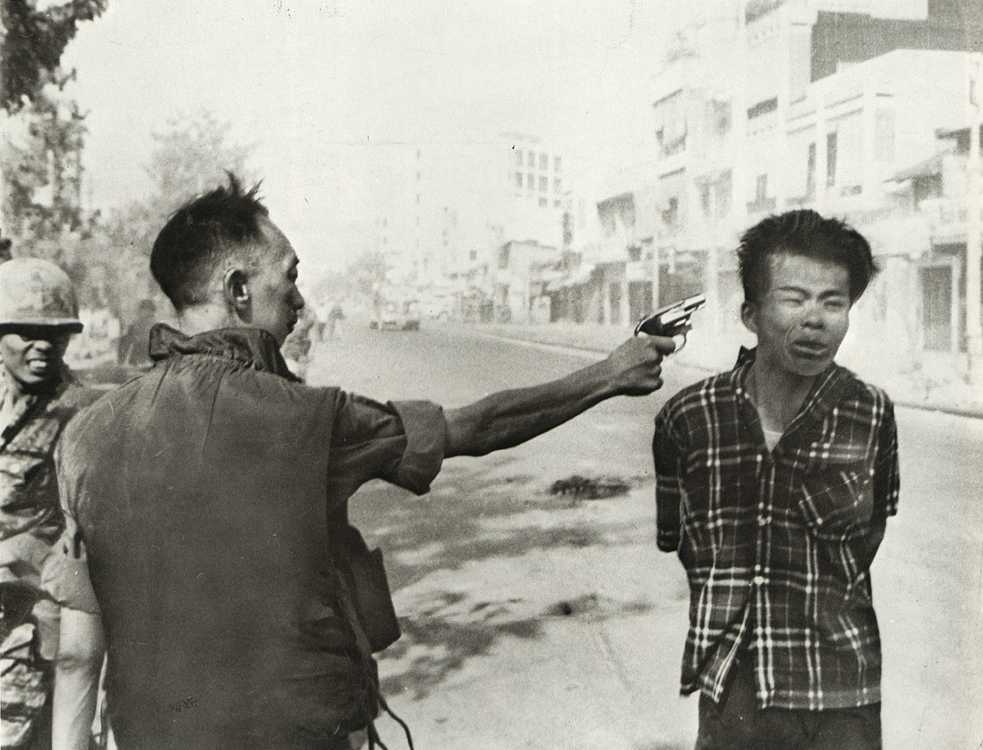 U.S solider gives mouth-to-mouth resuscitation to a dying soldier in war zone D.
Question: Do you think the U.S. should still have its military forces settled in foreign countries still and why?
27, 1965 photo, a Vietnamese litter bearer wears a face mask to keep out the smell as he passes the bodies of U.S. and Vietnamese soldiers killed in ...
A South Vietnamese soldier holds a cocked pistol as he questions two suspected Viet Cong guerrillas captured in a weed-filled marsh in the southern delta region late in August 1962. The prisoners were searched, bound and questioned before being marched off to join other detainees.
A U.S. crewman runs from a crashed CH-21 Shawnee troop helicopter near the village of Ca Mau in the southern tip of South Vietnam, Dec. 11, 1962. Two helicopters crashed without serious injuries during a government raid on the Viet Cong-infiltrated area. Both helicopters were destroyed to keep them out of enemy hands.
On July 28, 1965: President Johnson announced that another increase in US military forces in Vietnam from the present 75,000 to 125,000.
Waiting for medivac helicopter, Long Khánh Province, 1966
Trying to avoid intense sniper fire, two American medics carry a wounded paratrooper to an evacuation helicopter during the Vietnam War on June 24, 1965.
... (Far left: Amn Marc Joel Berger) from Tan Son Nhut Air Base watch for Viet Cong infiltration attempts along the base perimeter during the Vietnam war.
Hands of a Nation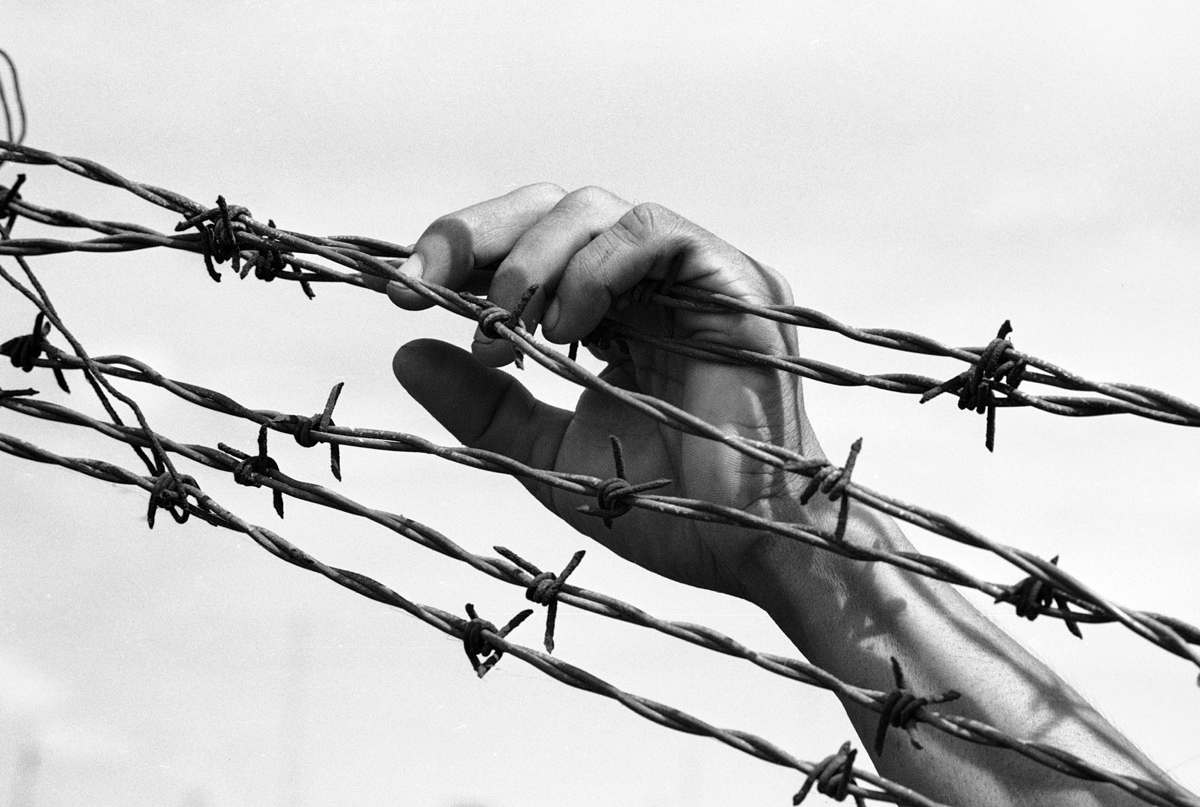 ACAV_and_M48_Convoy_Vietnam_War
11Th Acre, Doc Nam, Fight Nam, History'S Vietnam, Military Heroes, Vietnam Wars, Man Fight, Remember Vietnam, Lrrp Platoon
... fiery suicides by Buddhist monks, Thich Quang Duc burns himself to death on a Saigon street to protest persecution of Buddhists by the South Vietnamese ...
U.S. Marine Corps UH-34Ds over Vietnam, 1965.
A U.S. Air Force C-123 flies low along a South Vietnamese highway spraying Agent Orange on dense jungle growth beside the road to eliminate ambush sites for ...
by North Vietnamese military authorities in front of Hoan Kien Hospital in Hanoi, Vietnam on Aug. 24, 1967. Hardman, a U.S. pilot, was captured after his plane was shot down.
South Vietnamese mothers sheltering with their children beside an American paratrooper during a battle against Viet
South Vietnamese troops gather the bodies of North Vietnamese soldiers killed in battle during the Easter Offensive, near Quang Tri, South Vietnam, ...
01 Feb 1968, Hue, South Vietnam --- U. S. Marines are on the move here during street-to-street fighting against heavily entrenched Communist positions in ...
South Vietnamese troops gather the bodies of North Vietnamese soldiers killed in battle during the Easter Offensive, near Quang Tri, South Vietnam, ...
Soldiers of the 101st Airborne Division carry a wounded buddy through the jungle in May 1966.
25 October 1968: A human skull keeps watch over US soldiers encamped in the jungle during the Vietnam WarTerry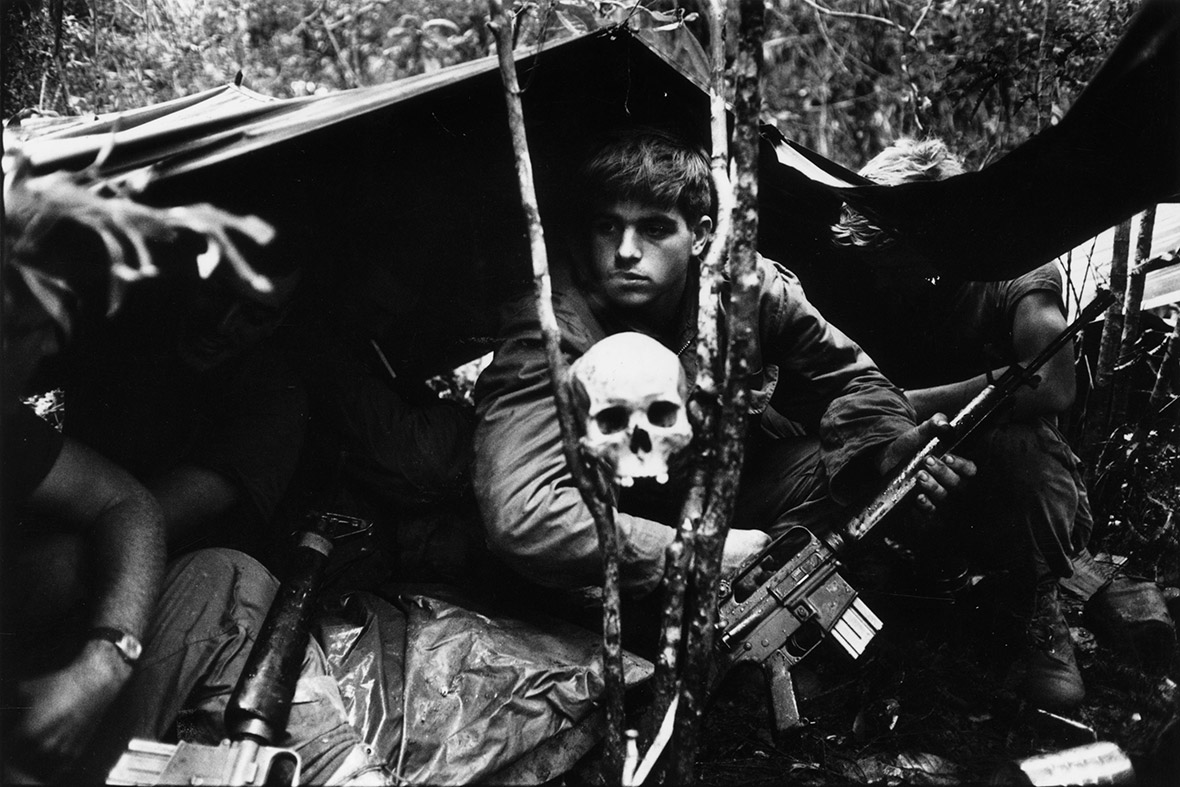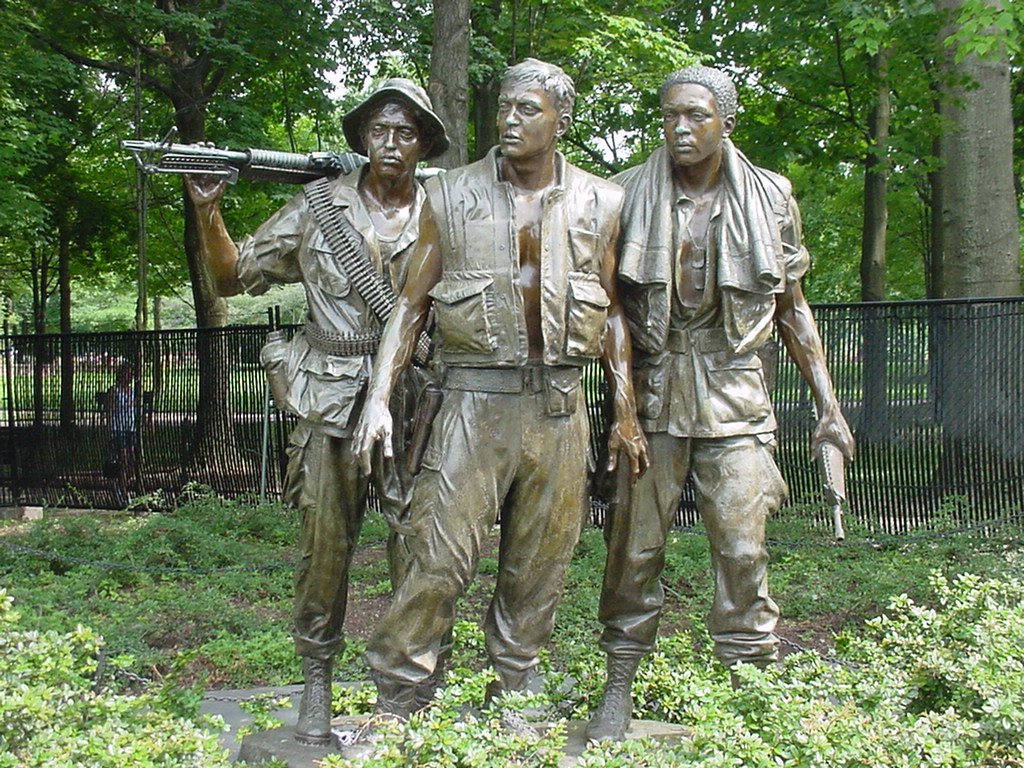 Bodies of US paratroopers lie near a command post during the battle of An Ninh, 18 September 1965. The paratroopers, of the 1st Brigade, 101st Airborne ...
Police in Da Nang cover the eyes of a woman who was an alleged member of a Viet Cong terrorist unit on Oct. 26, 1972. The woman was captured carrying 15 hand
Hill 875 Casualty, Dak To. Swathed in battle dressings, but still gripping his weapon, a wounded soldier of the 173rd Airborne awaits evacuation from Hill 875. American troops captured the summit of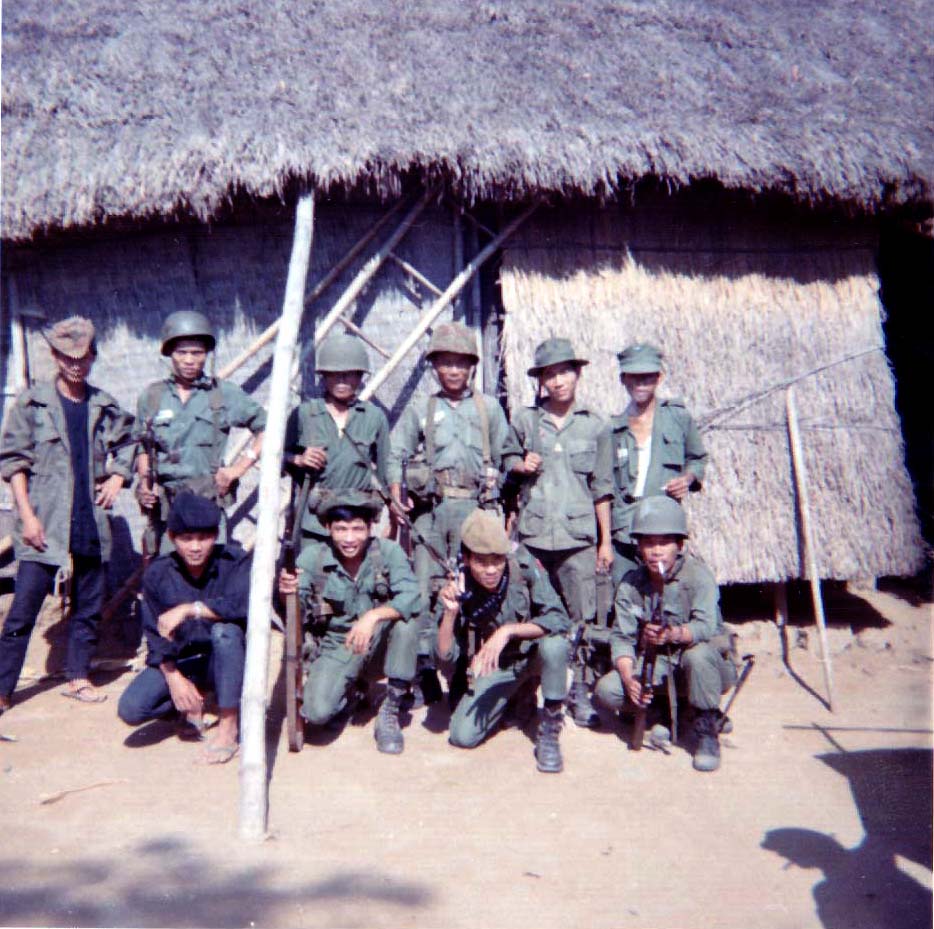 daktovietnam1966
wounded marine, the vietnam war, battle of hue, tet offensive
South Vietnamese troops gather the bodies of North Vietnamese soldiers killed in battle during the Easter
February 1968, Hue, Vietnam --- Evacuation of wounded American troops during the battle for Hue, Vietnam's third largest city, during the Vietnam War.
For the most part these Australians in Vietnam experienced combat either in or above rural or jungle locales against experienced and skilled opponents.
Vietnamese_refugees_on_US_carrier,_Operation_Frequent_Wind
John_McCain_After_Being_Released_as_Prisoner_of_War
Released prisoner of war Lt. Col. Robert L. Stirm is greeted by his family at Travis Air Force Base in Fairfield, California on March 17, 1973, ...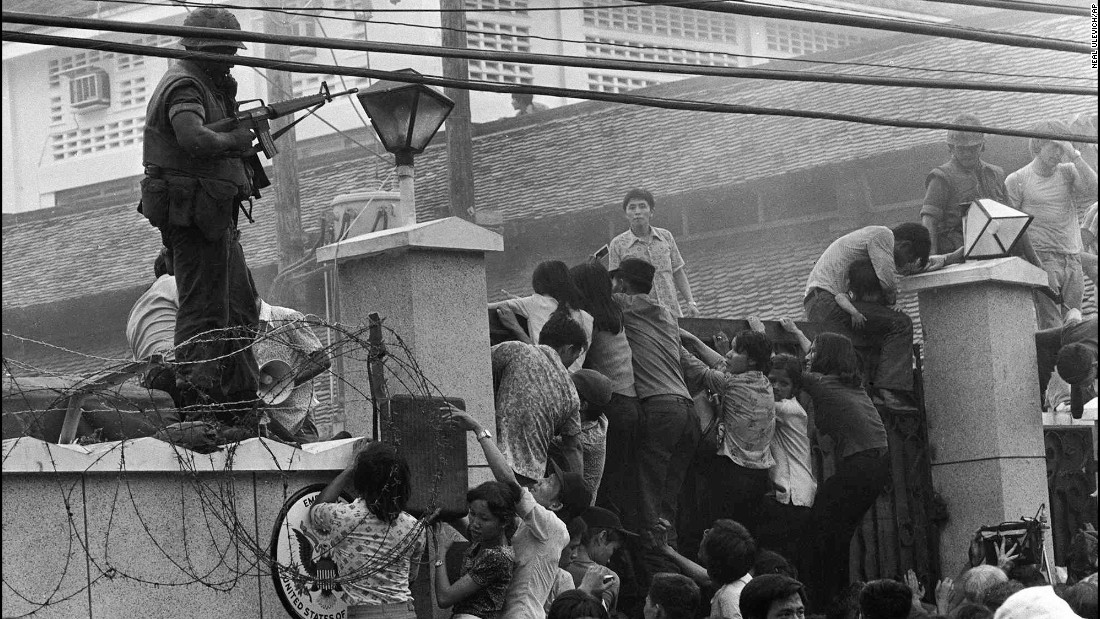 During the controversial mass evacuation, some 3,000 children were flown out of Vietnam to be adopted by families from America to Sweden.